SENSE of PLACE
Over these past few years our sense of place may have shifted. While we were once rooted in our home towns and usual routine, many have explored, traveled and created  a new life for themselves.
The opposite is also true. Some of us rediscovered their homes and familiar places, now with new eyes and different priorities.
Whatever our journey might be, we all search for places that bring us comfort, meaning, and belonging.
These places may be a forest preserve, a high-rise office building, your kitchen table, a garden, a waterway. People, new relationships and activities can also be the anchor of these recent transformations.
We are looking for images that evoke a sense of place and tell a story about who you are.
Curated by Federica Ghidelli and Denise Orlin
Juror: Susan Burnstine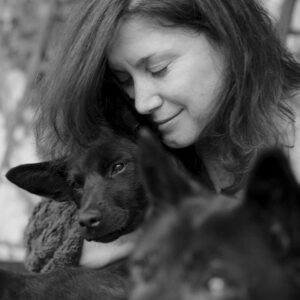 Susan Burnstine is an award-winning professional fine art and commercial photographer who builds homemade cameras and lenses using plastic, vintage camera parts, and random household objects. Susan is represented in galleries across the world, widely published throughout the globe and she has written for several photography magazines, including a longstanding monthly column entitled American Connection for Black & White Photography Magazine (UK). Susan has had over 35 solo exhibits internationally, her work is held in numerous museum and private collections and she has had two award winning monographs, Within Shadows (Charta, 2011) and Absence of Being (Damiani Editore, 2016). Additionally, she teaches workshops across the world, is a regular portfolio reviewer at events across the country and she frequently curates and serves on juries for exhibitions.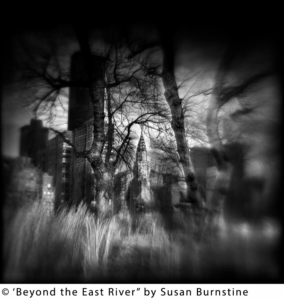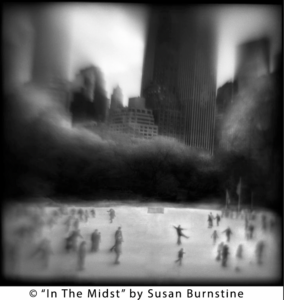 IMPORTANT NOTES:
Deadline: Sunday, December 1st
Show Opening: January 19th 2023
Entry Fee: $25 for up to 3 images, $35 for 5 images (this fee will also cover the cost of printing and mounting for the selected images).
Email of acceptance in the show will be sent out by December 12th 2022. The artists will have until December 15th to submit the high resolution files of the images.
Once you pay the submission fee on the website, you will receive an email confirmation of your purchase that looks like this (please check your spam folder!!)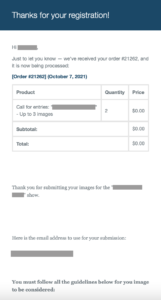 The instructions on how to submit your images are embedded in that email. Please check your spam folder as well, as sometimes emails might end up there.